PH Express: Two-Channel Video (2011)
PH Express: Two-Channel Video
(2011)
Two-Channel Video, Approx. 31 min
Written and Directed by Ayoung Kim
Production in Berlin
Producer: Dafna Maimon
Director of Photography: Elizabeth Skadden
Gaffer: Miona Bogovic
Assistant: Jack Gross
Sound Recording: Thomas Monses
Location Boom Sound: Sven Jensen-Brakelman
Make up: Lisa Pfau
Location in Geomundo Island (Port Hamilton), Korea
Producer: Beomchan Choi
Director of Photography: Juhun Lee
Assistant: Gi Seok Cho
Music Composition: Heejong Yoo
Editing and post production: Mario Campos, Ayoung Kim
Script Editing: Jenifer Greenwood, Angela Anderson
Special thanks to Geomundo Island Town Office
Noble A: Will Paine
Noble B: Kevin Smith
Noble C: Redfern Barret
Noble D: Tom Davies
Admiral: Anthony Straeger
Marine 1: Anthony Burke
Marine 2: Lewis Loyd Watkins
Messenger/Yelling Man: Mark Stanley
Journalist: Owen May Benjamin
This Project has been realised during Ayoung Kim's residency at Künstlerhaus Bethanien with the Support of the Arts Council Korea.
‹PH 익스프레스: 2채널 비디오›(2011)
2채널 비디오, 약 31분
극본, 연출: 김아영
베를린 촬영
프로듀서: 다프나 메이몬
촬영감독: 엘리자베스 스케이든
조명: 미오나 보고비치
어시스턴트: 잭 그로스
실내 동시녹음: 토마스 몬세스
실외 동시녹음: 스벤 젠센-브라켈만
메이크업: 리사 파우
거문도 촬영
프로듀서: 최범찬
촬영: 이주훈
어시스턴트: 조기석
음악: 유희종
편집 및 후반작업: 마리오 캄포스, 김아영
스크립트 교열: 제니퍼 그린우드, 안젤라 앤더슨
Special Thanks to 거문도 면사무소
귀족 A: 윌 페인
귀족 B: 케빈 스미스
귀족 C: 레드펀 바렛
귀족 D: 톰 데이비스
사령관: 안소니 스트래거
해병 1: 안소니 버크
해병 2: 루이스 로이드 왓킨스
메신저/소리치는 남자: 마크 스탠리
기자: 오웬 메이 벤자민
본 프로젝트는 김아영의 퀸스틀러하우스 베타니엔 레지던시 기간 중, 한국문화예술위원회의 후원으로 제작되었습니다.
Events
— 29 Mar 2016,
Living on the Border
, Club Silencio, Paris, France (Group Screening)
— 19 Dec 2015,
Secret Cinema
, Masrah Al Qasba – Theatre, Sharjah, UAE (Group Screening)
— 19 Dec 2015,
Secret Cinema
, Chronus Art Center, Shanghai, China (Group Screening)
— 2015
Ana: Please keep your eyes closed for a moment
, Maraya Art Centre, Sharjah, UAE (Group Show)
— 2015
Media Salon de SeMA
, Buk Seoul Museum of Art, Seoul Museum of Art, Seoul, Korea (Group Show)
— 2014
Time of Resonance
, Jeju Museum of Art, Jeju, Korea (Group Show)
— 2013
Roots of Relations
, Song Zhuang Art Center, Beijing, China (Group Show)
— 2013. 03. 25 Screening at People's Solidarity for Participatory Democracy, Seoul, Korea
— 2013
Maden Pictures 13
, Arario Gallery, Seoul, Korea (Group Show)
— 2012
Artspectrum 2012
, Leeum Samsung Museum of Art, Seoul, Korea (Group Show)
— 2012
PH Express
, Künstlerhaus Bethanien, Berlin, Germany (Solo Show)
Links and Downloads
— Lee, Sunyoung (2012) Exhibition Topic. Artspectrum 2012. Wolganmisul. Aug. pp.156~161. Korea
— Koo, Kyunghwa (2012) PH Express and Geomundo Island Incident or Much Ado about Nothing. In: Artspectrum 2012, Seoul: Leeum, Samsung Museum of Art. pp.14~31 [Exhibition Catalogue]
— Racek, Jakob (2012) Peripheral View: The Work of Ayoung Kim. BE Magazine, Berlin: Künstlerhaus Bethanien. 2012. Volume 19, Winter. pp.42~47. Germany
Collections
2014 Seoul Museum of Art, Seoul, Korea
2012 Leeum Samsung Museum of Art, Seoul, Korea
2min 30sec excerpt version from 31min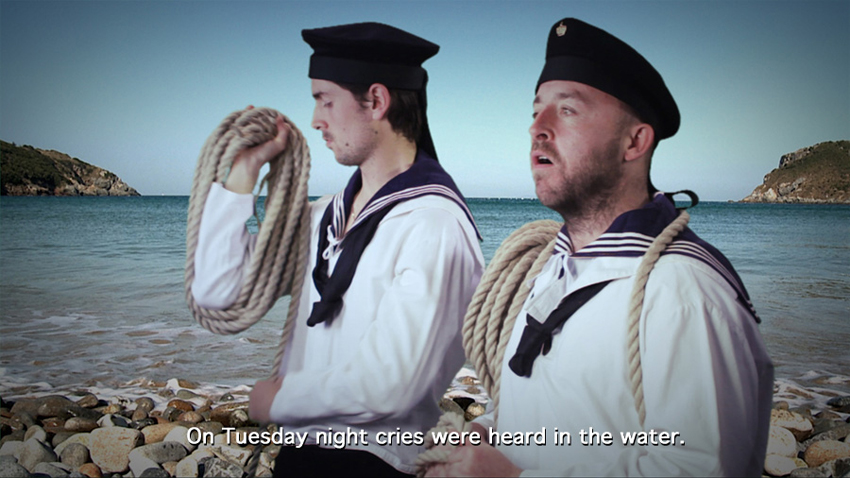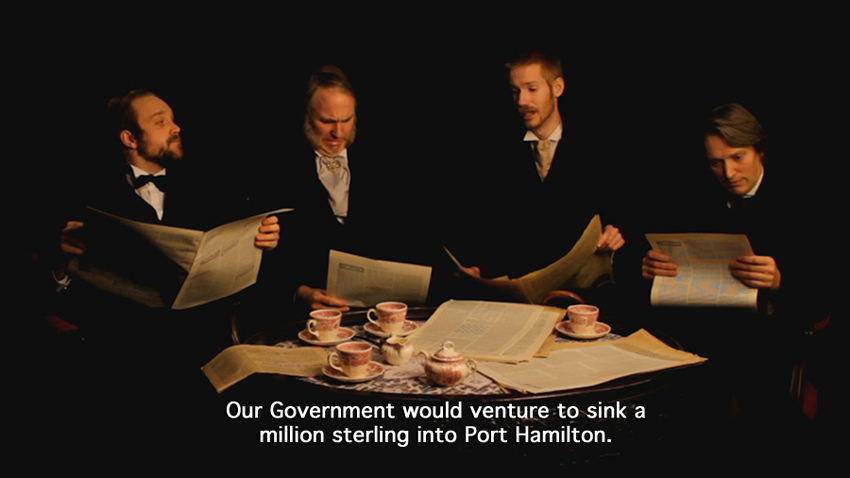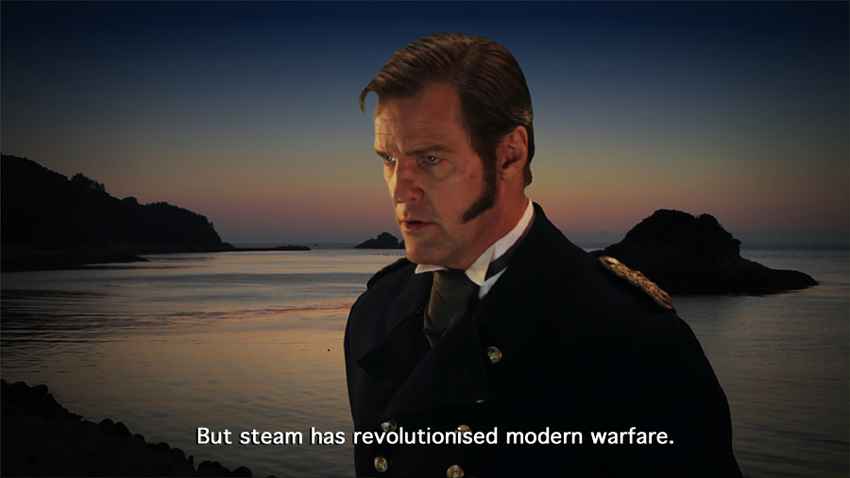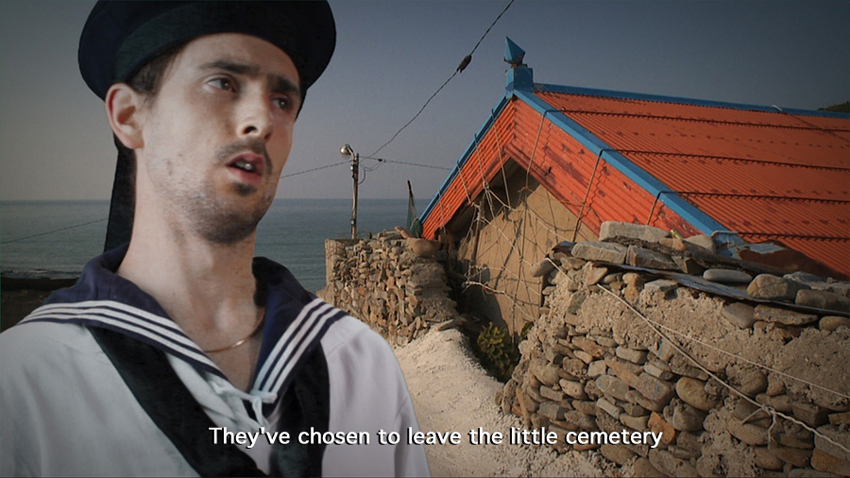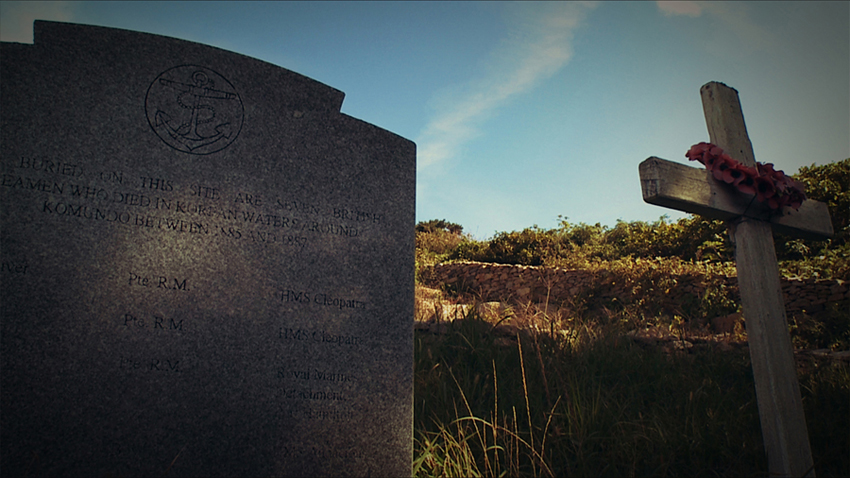 This two-channel video, 31 minutes in duration, marks the culmination of an extensive project worked on during my year-long residency at Künstlerhaus Bethanien in Berlin. It addresses and comments on a broad range of matters – the accessibility of historical accounts (the submergence of information pertaining to society, politics and history), geopolitics past and present, power relations in late 19th-century Europe, the social class system in Britain, news communication and media saturation around the world. By turns satirical, theatrical and blackly humorous, the video scratches beneath the surface of a historical episode little known to the general public – the British occupation of Port Hamilton, a tiny group of islets off the coast of Korea. In view of the fact that history is 'available' only if read, spoken and heard, I took it upon myself to bring the issue to people's attention.I drew on a wide variety of authentic documents to create the script. They included confidential diplomatic telegrams sent between British ministers in the Foreign Office and naval officers in Port Hamilton, history books past and present and over 300 articles from British newspapers published at that time. Most of the script is made up of actual quotes from the above-mentioned sources and a substantial portion was colloquialised and rearranged to produce a text collage.Towards the end of the imperialist era of the 19th century steamers were the most developed means of transport for both the navy and the merchant marine. As the new century approached the world was slowly changing and the steamships of other European powers were beginning to threaten British naval supremacy. As the video begins, Britain and Russia have recently fought a battle in the Afghan town of Penjdeh, a battle that Britain has lost, and Russia are now looking for a chance to proceed further south to India, Britain's most important colony. This incident spurred Britain to try to prevent possible Russian dominance on the other side of the globe in the Pacific Ocean. The British Government ordered an admiral to occupy Port Hamilton, a group of tiny islets off the Korean coast, and barricade Russian vessels in that area. Gradually the ripples of political tension spread to all countries of Europe. Russia was outraged and European nations began aligning and preparing to defend themselves in case an Anglo-Russian war should break out. All the while the Royal Navy in Port Hamilton was leading a deathly boring existence in quasi-exile, a boredom broken only by the occasional fatal accidents that befell its marines. Yet despite the rumours and preparations for war no actual clashes occurred. With the occupation becoming a hindrance at diplomatic level, the British Government eventually took the decision to evacuate the port but only after spending an enormous amount of money garrisoning it.The video's black humour amplifies the contradiction and absurdity of political decisions and history. Although it is set in the 19th century, the issues and geopolitics resonate with present-day situations, enabling viewers to adopt a stance of critical detachment from the present. As a historical reinterpretation of power relations, the video is also critical of the news media. By looking at modes of news dissemination during that era, the work demonstrates how news had a butterfly effect, with one trivial event causing a disproportionate stir across a wide area.
PH 익스프레스 PH Express는 한국문화예술위원회 지원으로 작가가 2011년, 베를린의 퀸스틀러하우스 베타니엔에 머무는 동안 제작한 30분 분량의 스크립트로, 동명의2채널 비디오로 실현되었다. 기록되었으나 회자되지 않는 텍스트를 역사라고 부를 수 있는가에 대한 질문과 함께 이 작업은 1885~1887년 사이 지속되었던 영국군의 거문도(포트 해밀튼) 점령사건을 모티브로 한다. 이는 널리 알려지지 않은 각종 사료들 – 기밀 외교문서, 유력일간지, 타블로이드, 삽화 등-의 텍스트적 재물질화 및 직조의 결과이자, 당시 유럽 및 아시아의 지정학과 외교 및 계급 시스템 등이 어떻게 현재와 공명하는지 부조리, 풍자, 블랙유머, 희극의 요소를 통해 되짚는다. 강한 연극적 요소를 띠는 이 영상의 대사와 나레이션의 대부분은, 앞서 언급한 각종 사료들로부터 추출, 인용되고 재배열된 텍스트 꼴라쥬이며, 기록된 역사적 자료의 훼손 없는 이송이되, 작가의 적극적 개입을 통한 편집이기도 하다.19세기 말, 제국주의 말기 시대에 증기선은 해군과 무역 양쪽에 있어 가장 발달된 운송수단이었다. 세계는 새로운 세기를 향해 변해가고 있었고 영국의 우수한 해군력은 다른 유럽 국가들의 증기선에 의해 위협받기 시작한다. 러시아는 팽창정책에 있어 영국과 세계 곳곳에서 첨예한 대립을 지속하고 있었다. 주지하다시피 19세기 중반 흑해지역 및 중동으로 진출하고자 했던 러시아는 크림 전쟁에서 영국, 프랑스, 오토만제국의 연합군에 패배했다.시나리오의 도입부에서, 영국은 최근 러시아와 벌인 아프가니스탄의 펜지에 전투에서 패배한다. 러시아는 아프가니스탄을 통해 남하를 지속하려 하고 있었고, 이 남하는 러시아가 아프가니스탄 남쪽, 가장 중요한 영국 식민지인 인도로 진격할 기회를 노린다는 의미일 수 있었다. 영국은 아프간 군을 지원해 이를 막기 위해 노력하나 패배하고, 이들은 세계의 다른 쪽, 동아시아와 북태평양 지역에서 러시아의 패권장악을 막기 위해 급히 서두르게 된다. 영국 정부는 당시 해군 사령관에게 조선 해협에 놓인 작은 섬 군락인 포트 해밀튼(거문도) 점령을 명령, 해군기지화하게 된다. 러시아는 이 점령에 격노하고, 이 이슈는 유럽 전 지역에 큰 동요를 일으킨다. 각 국가는 유럽의 열강이었던 영국과 러시아의 전쟁에 대비해 동맹을 준비하기 시작한다. 그러나 전쟁 준비가 한창인 유럽 상황과 달리, 포트 해밀튼에 주둔중인 영국 해군은 지루함 속에서 망명에 가까운 생활을 이어가며, 때때로 해병들의 사고사를 경험한다. 전쟁에 관한 맹렬한 소문들에도 불구하고 정작 실제 충돌은 벌어지지 않으며, 명백한 국제조약 위반이었던 포트 해밀튼 점령이 군사문제에서 복잡한 외교문제로 장을 달리 하자, 영국 정부는 결국 2년 후 해군 철수를 결정한다. 그러나 이미 포트 해밀튼을 요새화하기 위해 엄청난 금액과 사고사한 해병들을 잃은 뒤이다.역사의 한 부분이지만 점령시기가 짧았고 주둔 기간동안 눈에 띄는 사건이 벌어지지 않았기에 국내에 널리 알려지지 않은 이 이슈는 자연스레 현재 본인의 주된 관심사인 한국의 파행적 근대화 과정과 후기 식민주의, 지리적으로는 차별적이지만 연대기적으로는 동시적 시간들에 나타나는 비동시성 'Non-contemporaneousness of geographically diverse but chronologically simultaneous times' 에 관한 이슈와 연결되었다. 긴 기간 지속된 리서치과정은 1885~1887년 영국에서 발간된 각종 신문들 300여종의 수집과 분석, 그리고 당시 한국, 중국, 일본에 주둔했던 외교관/해군제독과 영국 외무부 사이에 오간 비밀 외교문서의 수집과 분석작업 등을 포함했다. 이 자료들에 대중언론과 외교문서의 간극이 존재하며, 이 간극은 또한 한국에서 연구된 대부분의 자료들과 영국에서 발간된 자료들이 갖는 간극과 묘한 이항관계를 이룬다. 거문도점령이라는 국지적 사건은 실은 당시 유럽 열강의 역학관계 안에서 벌어진 국제이슈였으며, 어떻게 해밀튼항이 동아시아정세 및 태평양 해상권 등의 정치외교적 안건하에서 쇄국과 내분으로 무력해질대로 무력해진 자국을 배제한 채 뜨거운 감자로 작용하고 있었는지 이 자료들은 보여주고 있다.