In This Vessel We Shall Be Kept_6-Channel Sound Installation (2016)
— In This Vessel We Shall Be Kept
6-Channel Sound Installation, 13min, 2016

In This Vessel We Shall Be Kept_Solo Exhibition

23 June ~ 29 Aug 2016
Palais de Tokyo, Paris, France

——————————–
A Project by Ayoung Kim
Curator: Chloé Fricout
Producer: Pauline-Alexandrine Deforge
Composer: Hyun-Hwa Cho
Choirmaster: Christine Morel
Singers:
Charles Barbier (Tenor)
Violaine Barthélemy (Alto)
Alessia Thais Berardi (Soprano)
Renaud Bres (bass)
Romain Dayez (Baritone)
Lucie Louvrier (Mezzo)
Sound mixing: Daewoong Lim, Sisu Park and Ayoung Kim
6-channel surround mixing: Salomé Damien from GRM (Groupe de recherches musicales)
On location sound mixing and mastering: Guillaume Couturier
Project Assistant: Keumsun Chun
Research Assistants: Soyoung Hyun, Marilou Thiebault
Thanks to: Daehwan Park, Emmanuel Rébus
This exhibition benefits from the support of GRM (Groupe de recherches musicales) de INA (Institut national de l'audiovisuel, Ina.fr)
Event organized in the framework of the 2015-2016 France-Korea year with the support of INSTITUT FRANÇAIS.

— ‹이 배가 우리를 지켜주리라›
6채널 사운드 설치, 13분, 2016

‹이 배가 우리를 지켜주리라›_개인전

2016.6.23 ~ 8.29
팔레 드 도쿄, 파리, 프랑스

——————————–
김아영 프로젝트
큐레이터: 클로에 프리쿠
프로듀서: 폴린-알렉상드린 드포르쥬
작곡: 조현화
합창지휘: 크리스틴 모렐
보컬리스트:
로망 다예즈 (바리톤)
뤼시 루브리에 (메조)
르노 브레 (베이스)
비올렌 바르쎌레미 (알토)
샤를 바비에 (테너)
알레시아 타이스 베라르디 (소프라노)
사운드 믹싱: 임대웅, 박시수, 김아영
6채널 서라운드 믹싱: 살로메 다미앙 (프랑스 시청각아카이브 INA 산하 사운드연구소 GRM – Groupe de recherches musicales)
현장 사운드 믹싱 및 마스터링: 기욤 쿠튀리에
프로젝트 어시스턴트: 천금선
리서치 어시스턴트: 현소영, 마릴루 티보
감사: 박대환, 엠마누엘 페랑
본 전시는 2015-2016 한국-프랑스 상호교류의 해를 맞이하여 프랑스문화원의 후원으로 조직되었습니다.
본 전시는 프랑스 시청각아카이브 INA와 INA 산하의 사운드연구소 GRM의 후원 및 도움으로 실현되었습니다.
Events
— 2 Dec and 4 Dec 2016,
Festival Manca
, CIRM(Centre International de Recherche Musicale), Nice, France
— 23 June ~ 29 Aug 2016, In This Vessel We Shall Be Kept, Palais de Tokyo, Paris, France (Solo Show)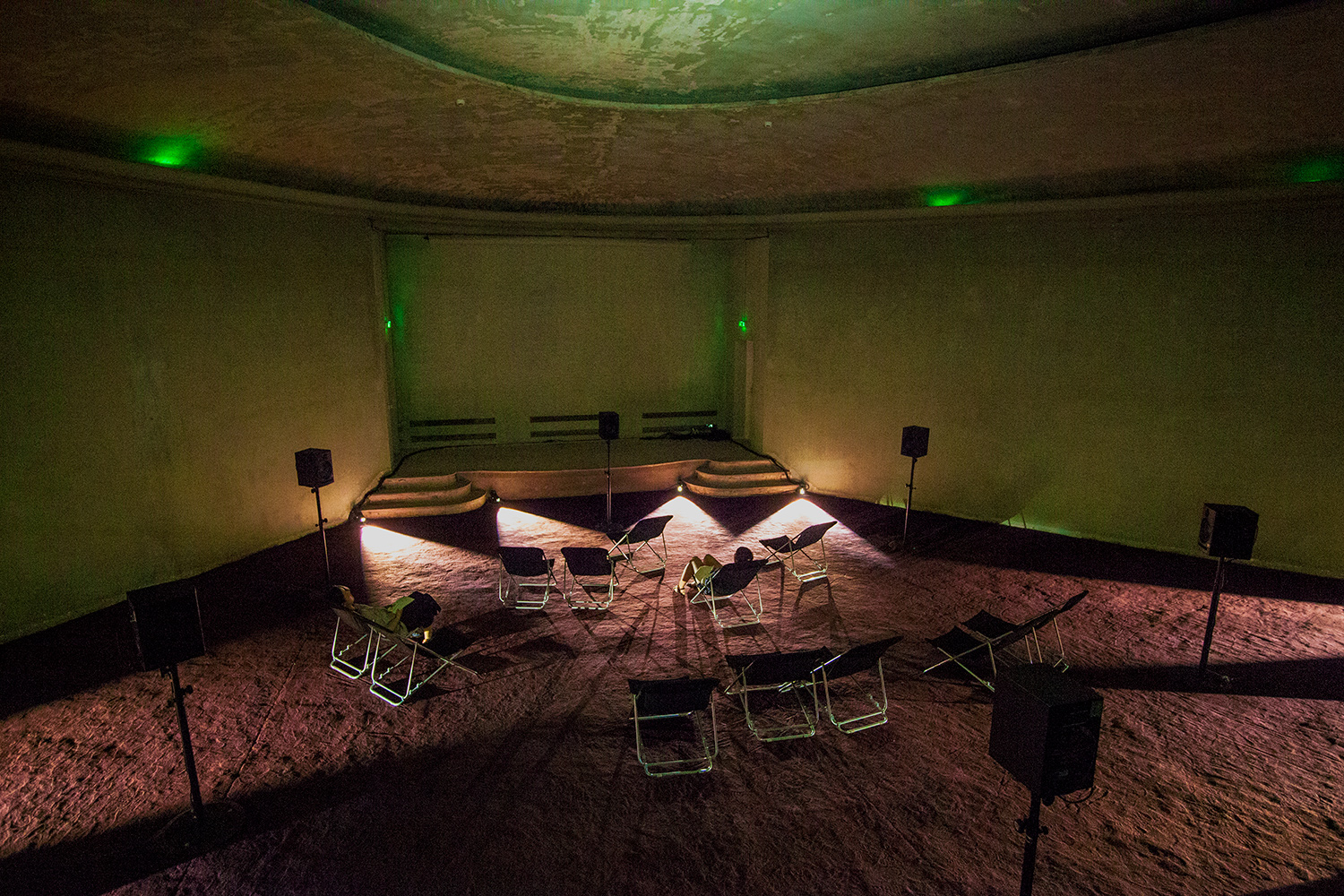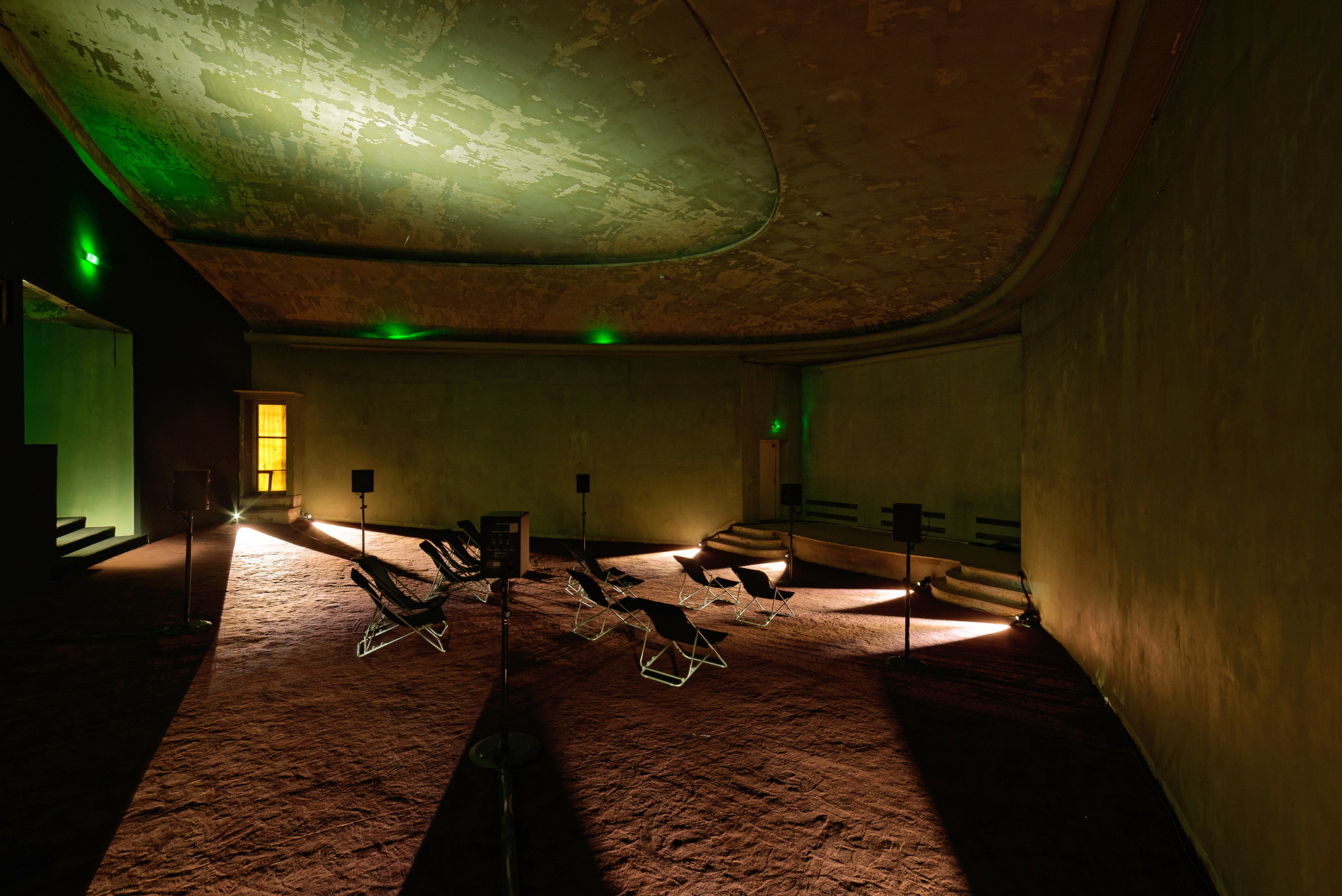 Exhibition view of Ayoung Kim, In This Vessel We Shall Be Kept, Palais de Tokyo (23.06 – 29.08.2016). Courtesy of the artist.
Photo: Aurélien Mole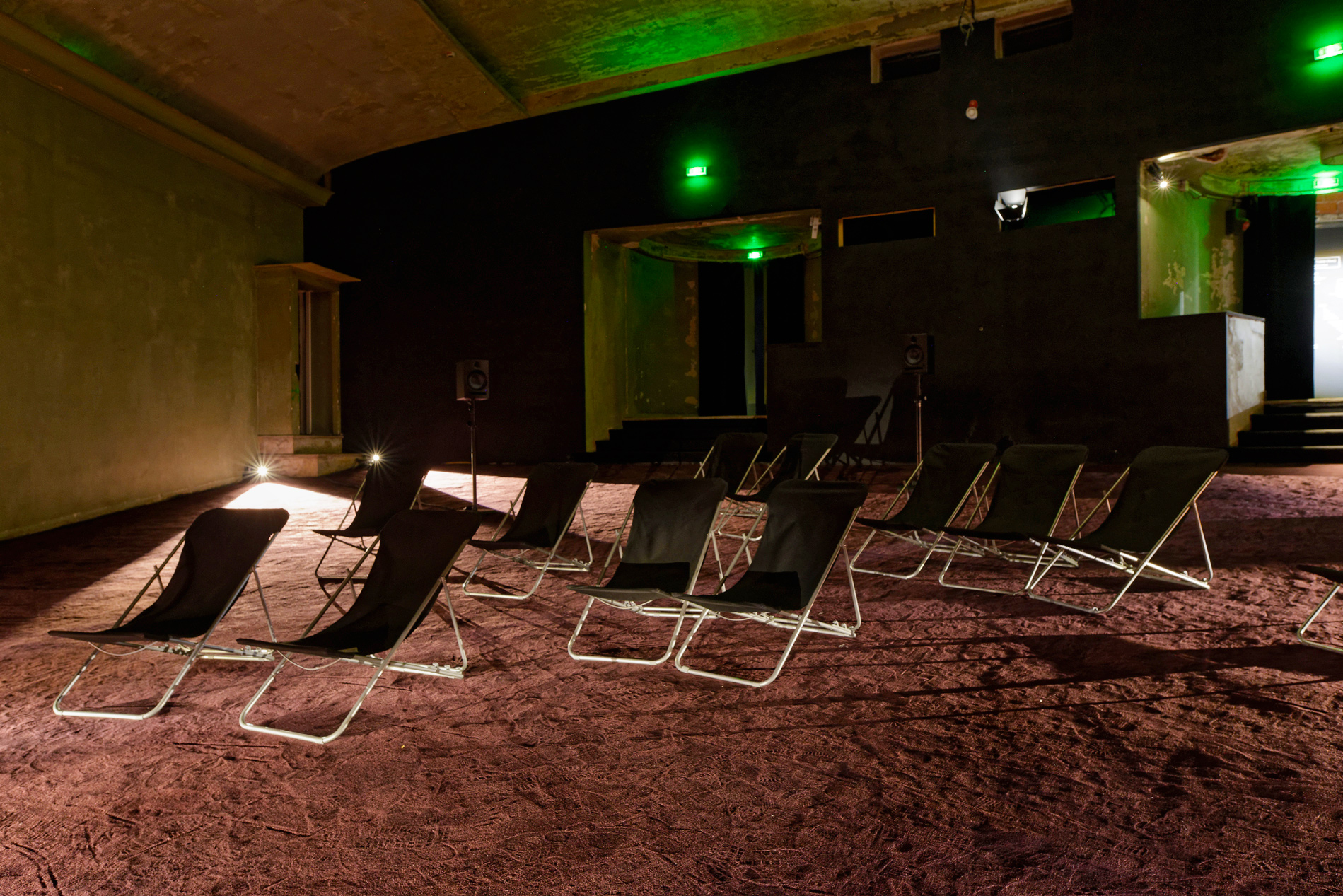 Photo: Aurélien Mole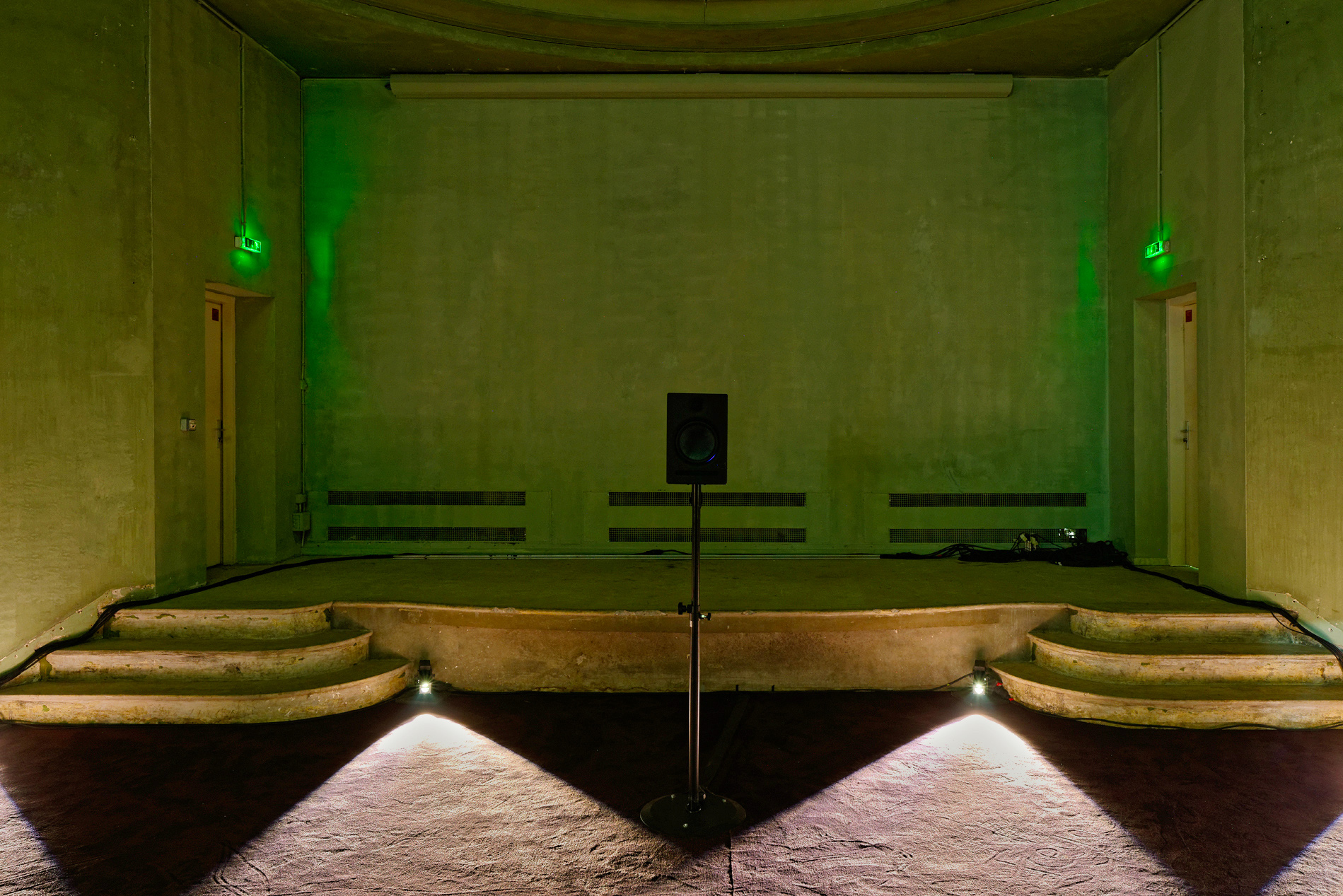 Photo: Aurélien Mole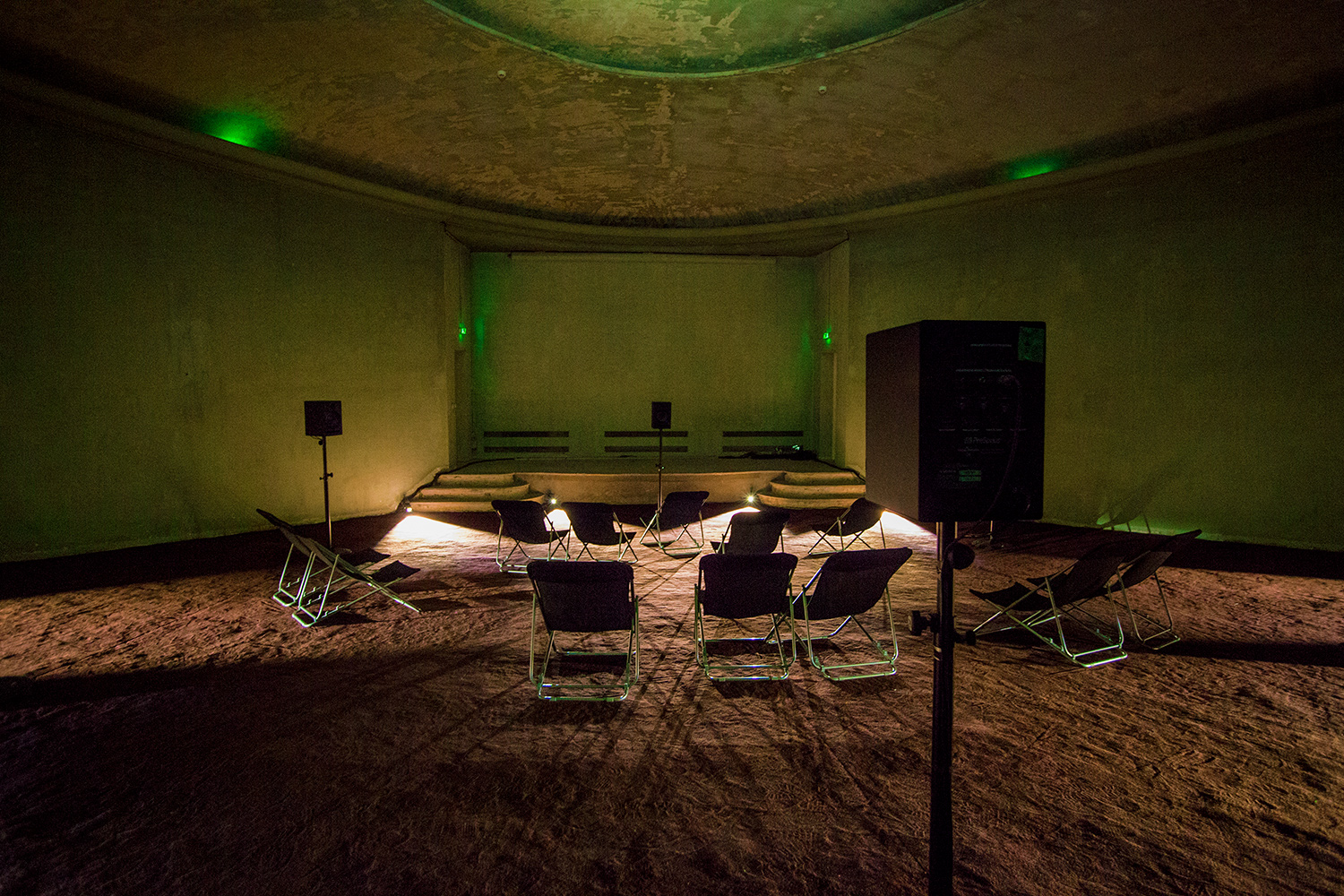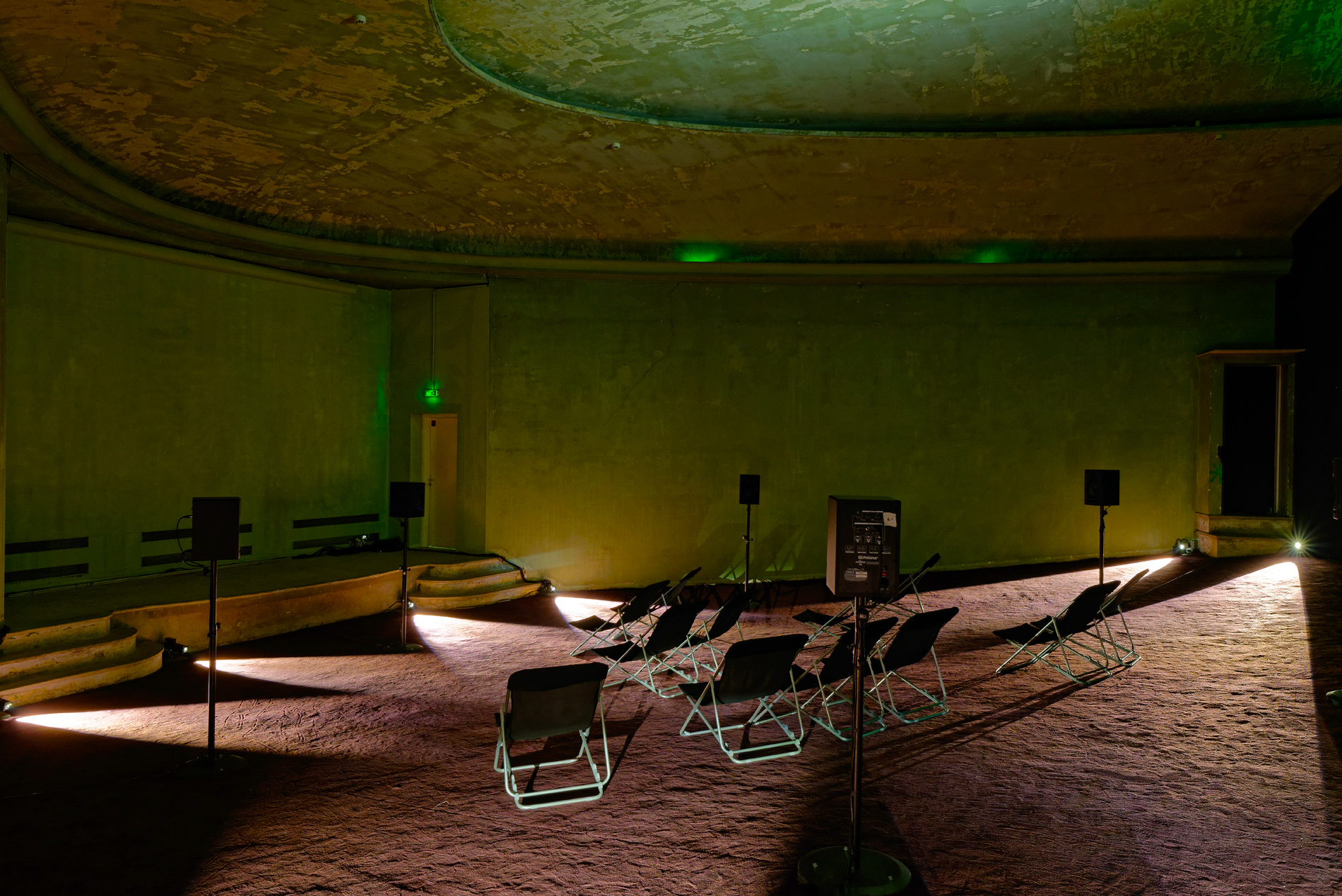 Photo: Aurélien Mole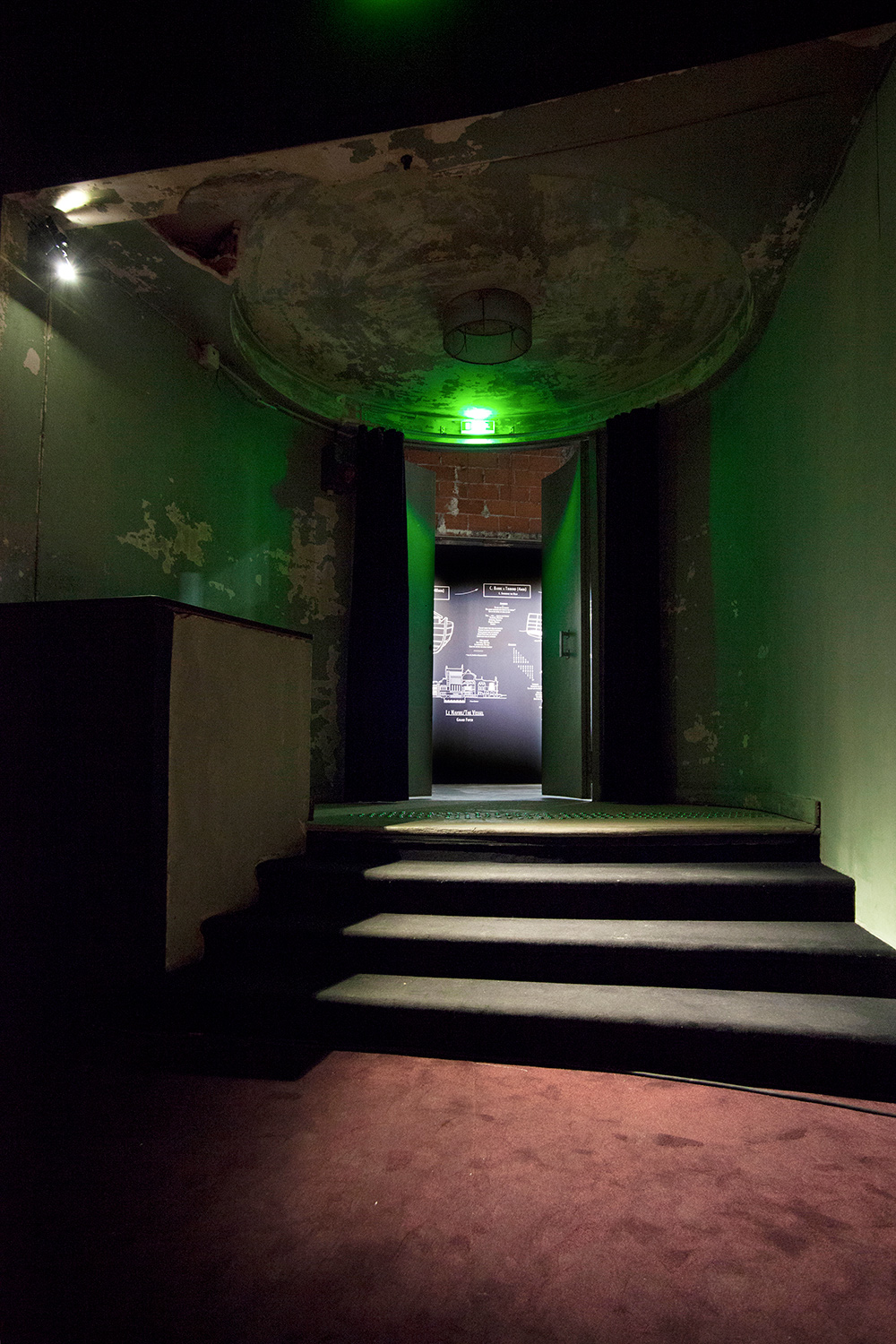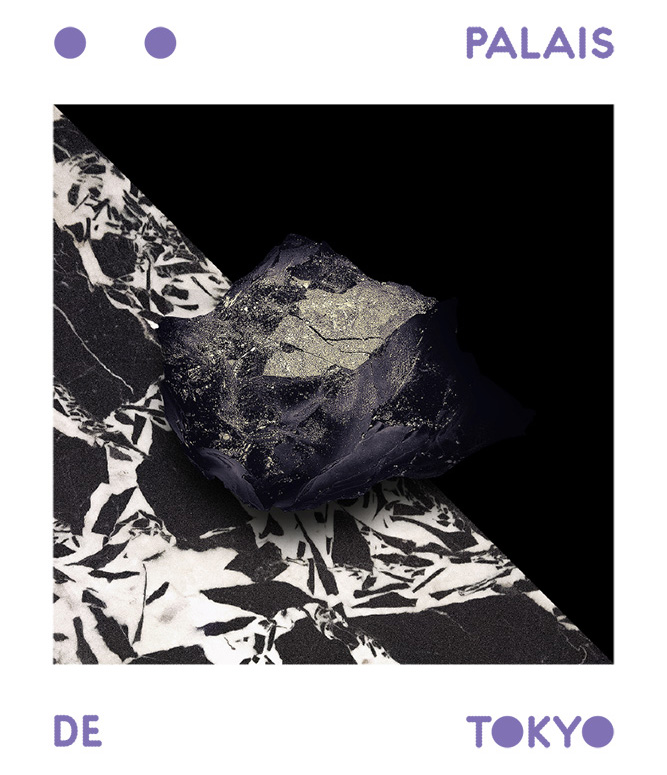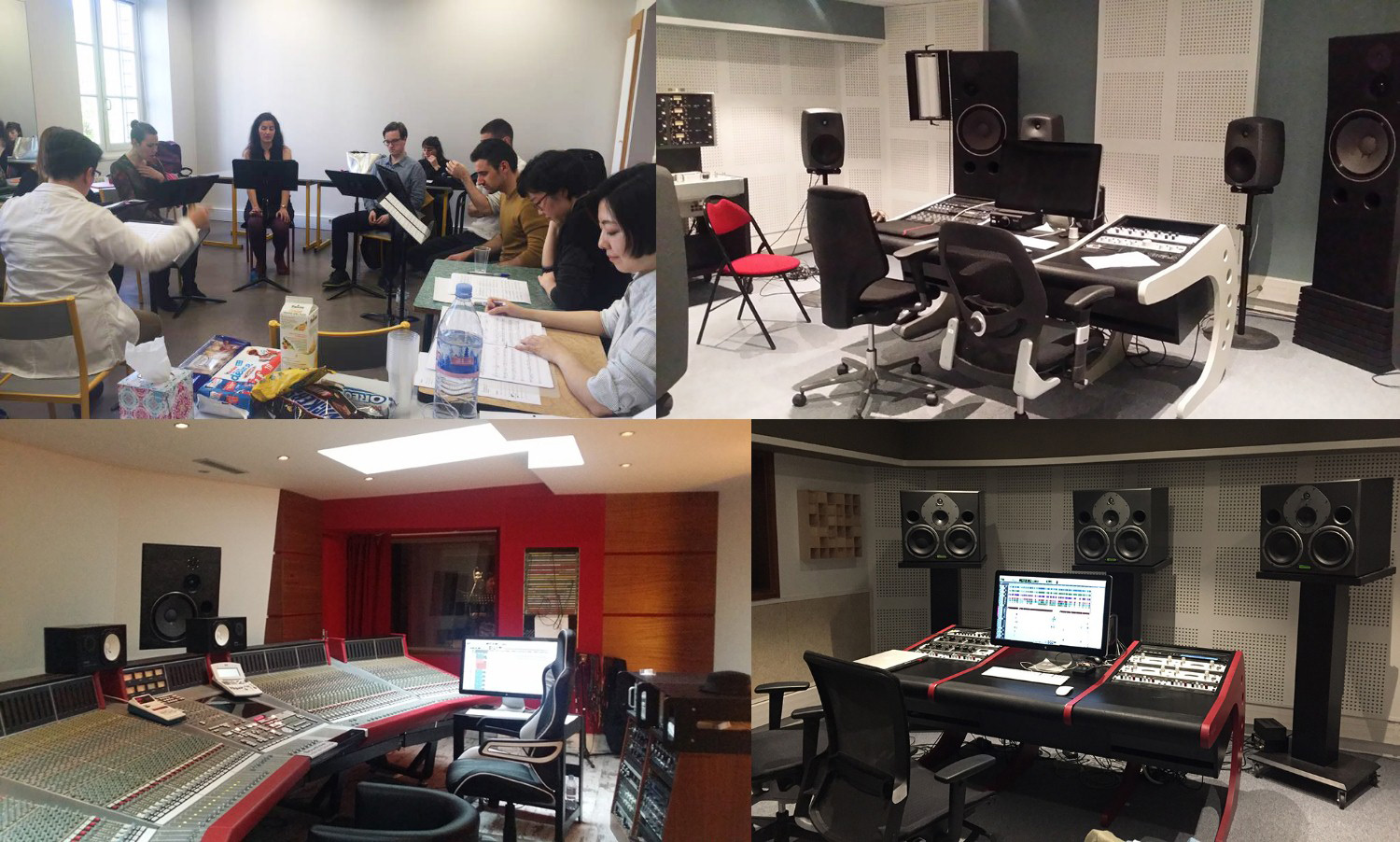 This exhibition benefits from the support of GRM (Groupe de recherches musicales) de INA (Institut national de l'audiovisuel, Ina.fr)

In This Vessel We Shall Be Kept
To be updated.From reminiscences of a forgotten flood to modern-day catastrophes, Ayoung Kim's show crosses over eras with its foundation point being oil, that magical substance that surges up from the earth to irrigate world history. Based on in-depth research into this fossil fuel, which was already present in many previous pieces, Ayoung Kim works using sound or visual and textual collages. Intermingling in this way, the artist devises narrative set-ups so as weigh up our contemporary societies.
Ayoung Kim is here opening up a new vein of research based on the underground lake of Palais Garnier, which goes back to the building's construction, so as to protect this marshy site from any possible rise in the water-table. This reservoir has been coated with pitch, an oil spin-off used since antiquity for its impermeable property: the foundation floods as related in the
Epic of Gilgamesh
, the
Quran
or the tale of Noah's ark already mention it. And so connections are then made with the architecture of the Palais Garnier. As result, Ayoung Kim has written an opera libretto, in which evocations of ancestral myths lead us back to contemporary concerns. In this way, those feelings of fear and urgency that accompany a coming catastrophe are announced.
Ayoung Kim (born in Seoul in 1979) is currently in residence at Pavillon Neuflize OBC, research lab of Palais de Tokyo, where she is participating in a group project with the choreographers of Académie de l'Opéra National, Paris. (Chloé Fricout)
"'Ritual' as one observes it in primitive communities is a complex of words and actions… it is not the case that words are one thing and the rite another. The uttering of the words is itself a ritual.(1)"

————–

(1) Leach, E. (1966). Ritualization in Man in Relation to Conceptual and Social Development. Philosophical Transactions of the Royal Society of London. Series B, Biological Sciences, 251(772), 403-408. Retrieved from http://www.jstor.org/stable/2416752
"이 배가 우리를 지켜주리라"
대홍수-방주 서사는 성경뿐 아니라 이슬람 경전 코란에도, 또한 더 오래된, 고대 메소포타미아 지역(현재의 시리아와 이라크)의 문헌 <길가메시 서사시>에도 자세히 기록되어 있다. 세부는 다르지만 모두 동일한 어간을 공유한다. 신/들은 대홍수의 재앙을 내리고, 선택받은 자들에게 방주/배를 지으라고 권고하며, 배의 안팎을 "역청"으로 칠하라고 명령한다. 역청, 즉 점성질의 석유는 유사 이래 선박의 표면을 방수처리하기 위해 쓰인 중요한 재료였다. 그렇기에 파리 오페라 극장의 지하 은밀한 곳에 고여 있는 호수의 벽 역시 역청으로 마감되었다는 기록은 놀랍지 않다.
지난 3년 동안 역청과 석유라는 신비로운 물질의 이동에 대해 작업해 온 내게 파리 중심부의 오페라극장 팔레 가르니에는 세상과 단절된 방주같은 곳이었다. 무대와 오디토리움이 전체 건물의 1/5밖에 차지하지 않는 오페라 극장. 극장 그 자체보다 살롱과 사교 공간, 신 바로크적 주름(drape)과 황금색 절충주의 양식으로 장식된 공동의 공간이 더욱 중요했던 부르주아들의 작은 사회 – 방주. 그 아래에는 건설 당시 지층을 파 내려가다 범람한 세느강의 지류를 막을 수 없어 일종의 저수지로 마련해 둔 인공 호수가 있다.
이 공간을 마주하고 대홍수-방주 이야기를 끌어낸 것은 시공을 초월해 통사적 어미를 달리 하며 반복, 등장하는 재난의 원형으로서의 대홍수를 들여다 보기 위함이다. 또 다른 성채-팔레 드 도쿄의 지하에 위치한 움푹 파인 구덩이와도 같은 37번 방(Salle 37)에서, 침몰의 공간으로서의 팔레 가르니에를 상상한다. 이 전시장은 역청 덩어리와 "깊은 애도(Grand deuil)"라는 이름을 가진 검은 대리석, 그리고 떠다니는 목소리가 차지하는 공간이다.
"…'리츄얼'은 언어와 움직임의 복합체이다. … 언어가 한 부분, 의례가 또 다른 부분을 이루는 것이 아니다. 언어의 발화 자체가 곧 리츄얼이다.(1)"
고대 그리스에서 발견된 점토판에 새겨진 주술의 구조를 부분적으로 채용하기도 한 이 합창-챈팅에서, 떠도는 목소리들은 반복 출몰하는 전설처럼, 이야기처럼, 멀리, 널리 울려 퍼진다.

————–

(1) Leach, E. (1966). Ritualization in Man in Relation to Conceptual and Social Development. Philosophical Transactions of the Royal Society of London. Series B, Biological Sciences, 251(772), 403-408. Retrieved from http://www.jstor.org/stable/2416752